This Union Territory town, (fondly known as 'Pondy') alongside the Bay of Bengal is one of my favourite places in southern India. Its French legacy is well-preserved in its French Quarter – the mustard villas, the petite cafes, the tree-shadowed streets, the numerous grand churches, etc.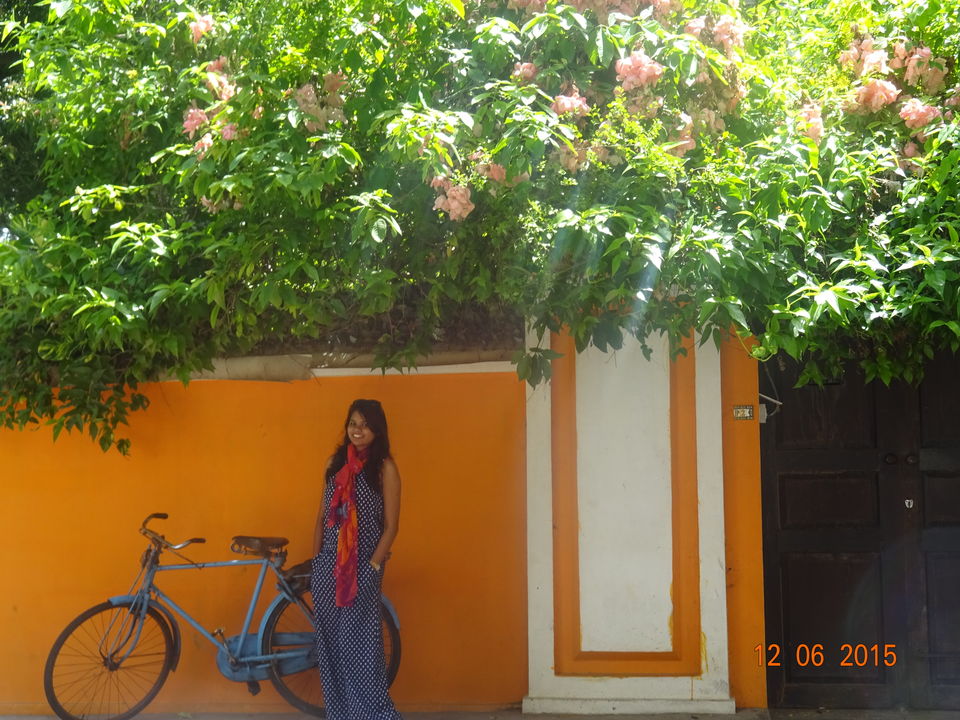 How to reach Pondy from Bangalore?
It is approximately 350 kms. from Bangalore and there is a good road-route that takes around 7 hours.
There are good trains and buses as well that are overnight so if you do not want to tire yourself you can pick any of the 2 options.
Where to stay?
In my opinion, stay closer to the promenade (rocky) beach. It will give you the ideal sense of the French colonies and that's an amazing experience.
How many days to spend?
Ideally, 3 days is a must! Less than that is just a rendezvous. But to fall in love with Pondy, spend a little time in nothingness.
Places to visit?
1.Promenade/Rocky beach – It is, as the name implies, a rocky beach which is a beautiful place to sit and soak in the atmosphere, see the setting sun, fall in love with the beauty of the horizon by the sea.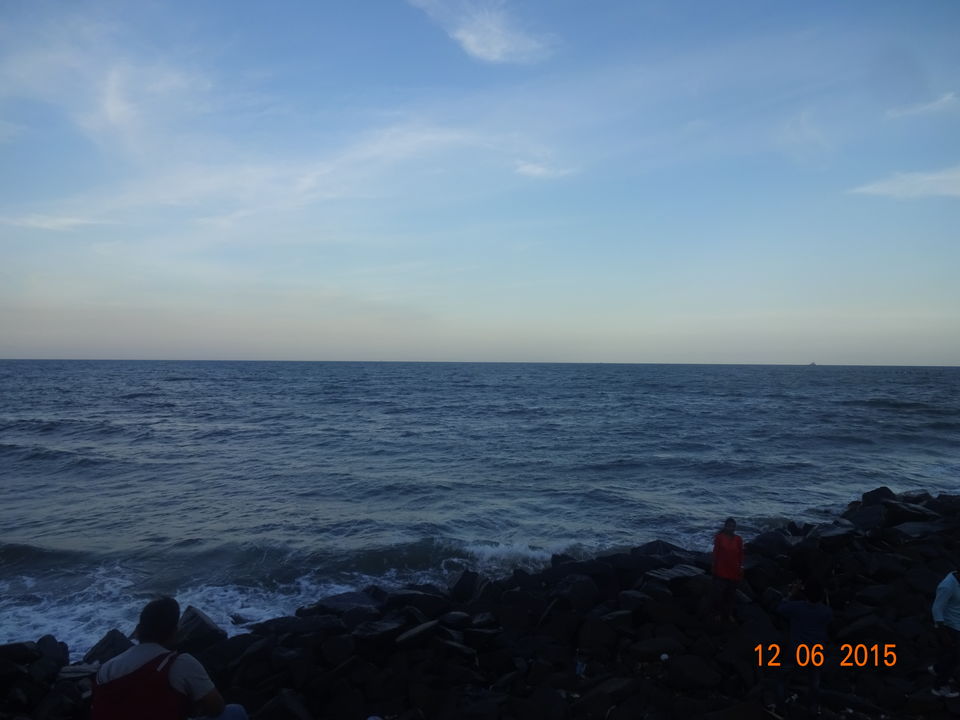 (Best time – before sunset and stay a little long. The road alongside is closed for vehicles after 6 and then stroll there aimlessly or sit on the rocks and get lost in your own thoughts, beware of crabs on the rocks)
Time spent – can be endless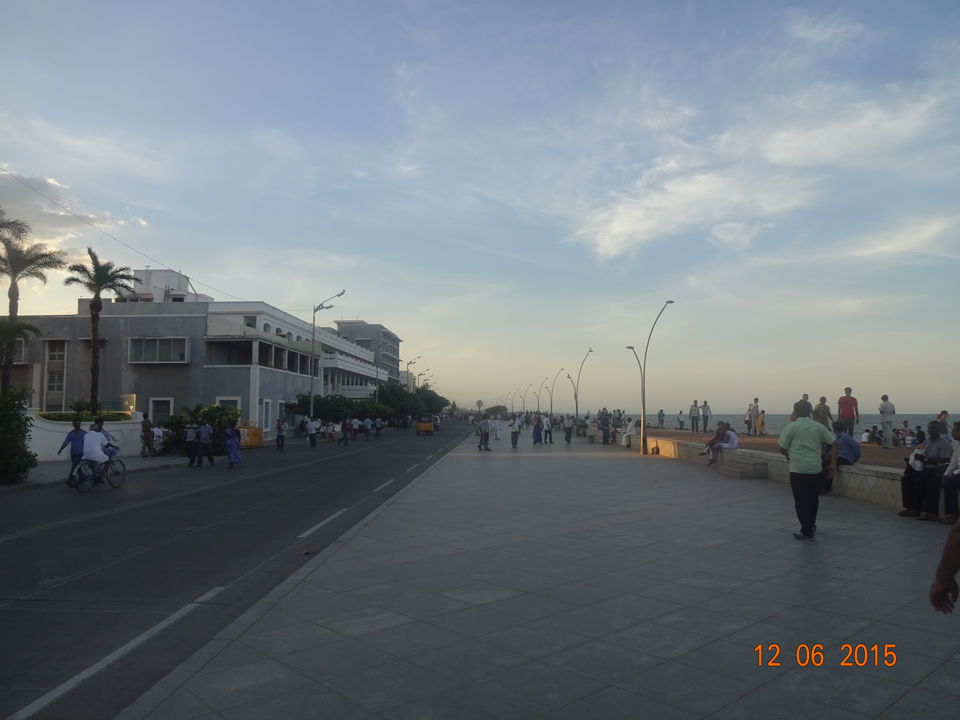 2. French War memorial – Just on the same road as the promenade is this memorial. Opposite to it is a huge Gandhi statue and little farther away is the statue of the famous Governor, Le Dupleix.
Time spent – 5-10 mins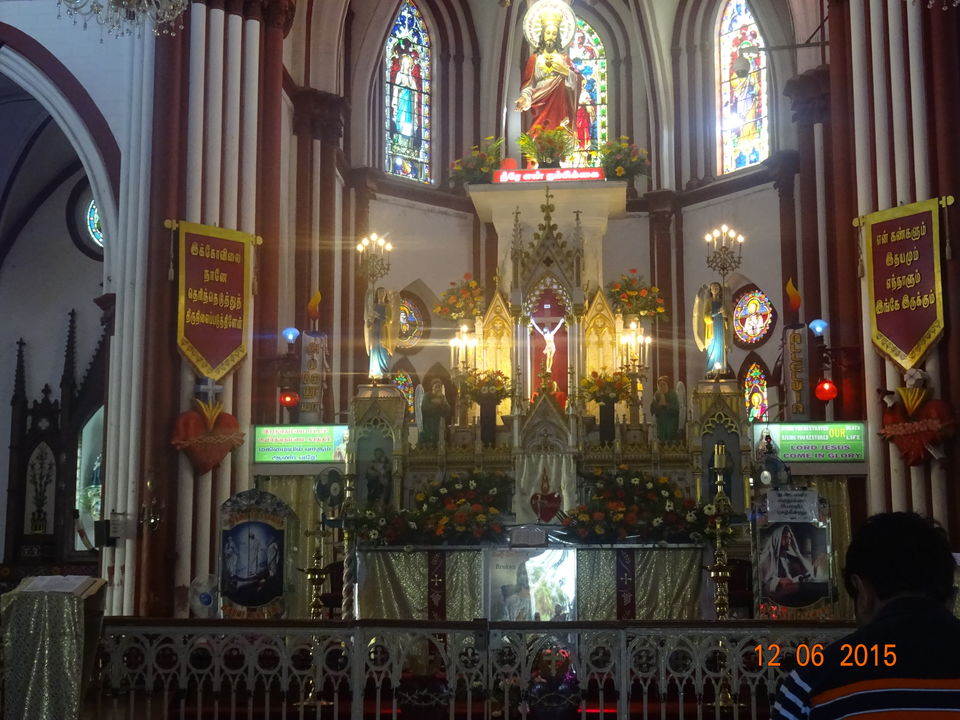 3. Basilica of the sacred heart of Jesus – It is a 100 years old church, known for its Gothic architecture. It is located just outside the railway station. So it can be the first place you visit if you decide to take the rail-route.
Time spent – 15-20 mins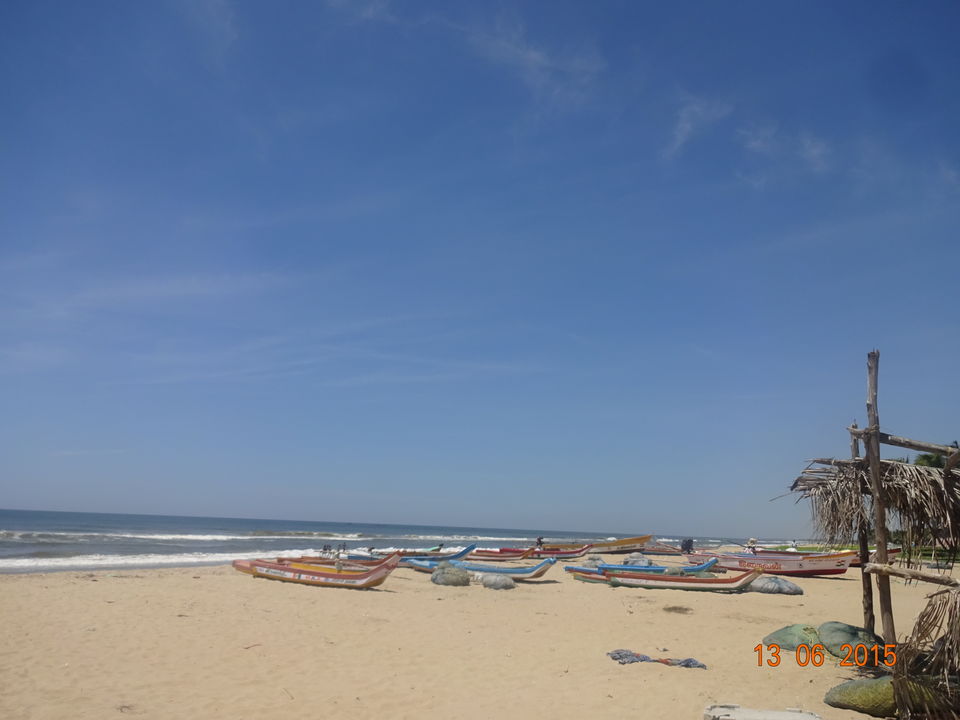 4. Paradise beach – It is a beautiful and clean beach in Pondy.
There are two ways to reach there.
1 ) One is via a boat/ ferry which starts at 9 a.m. and is hugely crowded. Be there on time for the ticket counters to open, to avoid unnecessary delay due to the rush.
2) Second is drive down if you have your own car or if you have your rented bikes. But during high tides, you cannot go in the water from this end as they only have life-guards on the end where the boats take you. And that end is a slightly long walk from here. You might find it vaguely deserted in off season so better take the boat in those days.
Note -Do not expect a lot of shacks or restaurants around. It is not exactly that bustling. But good showers on the boat end.
It's the only good beach so keep mediocre expectations and you'll enjoy it.
Time spent – 2-3 hrs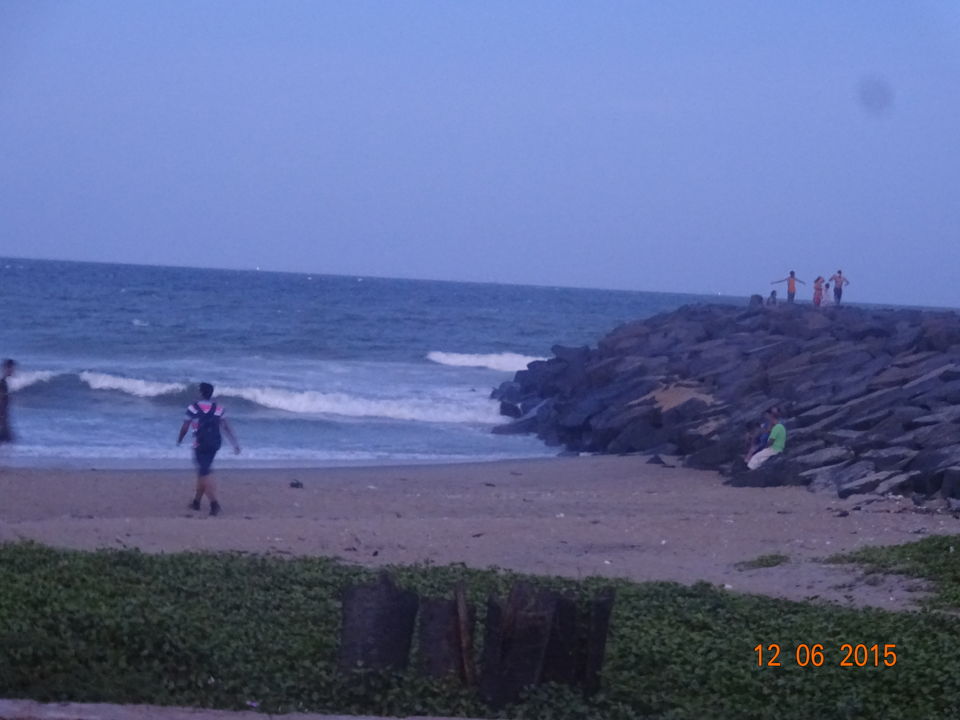 5. Serenity beach – Would not recommend it. The beach is not very clean and was a real disappointment. Though it's a good place for photographs. Been there once and didn't find it appealing at all.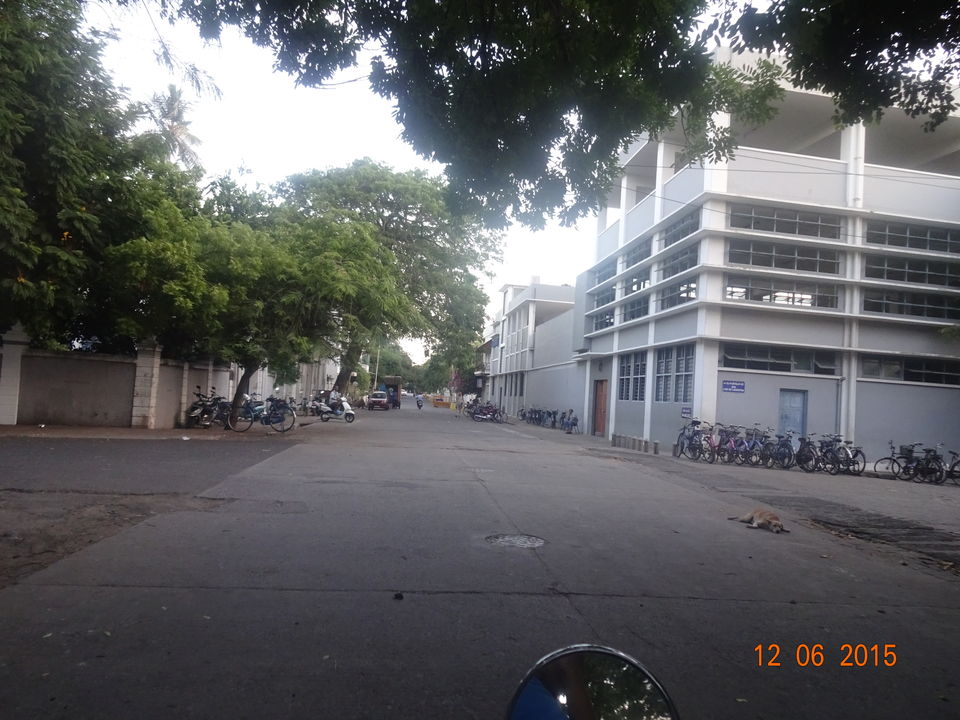 6. Sri Aurobindo Ashram – This is an ashram founded by Sri Aurobindo and his collaborator, The Mother, for the disciples of Internal Yoga, which was widely preached by the two. In simple words, it is a small house, which you can visit to see how the followers devote themselves to spiritualism and stay here.It is close to the promenade, so was a easy stop for us.
There are some said timings so please enquire about it before you go.
Time spent – 15 mins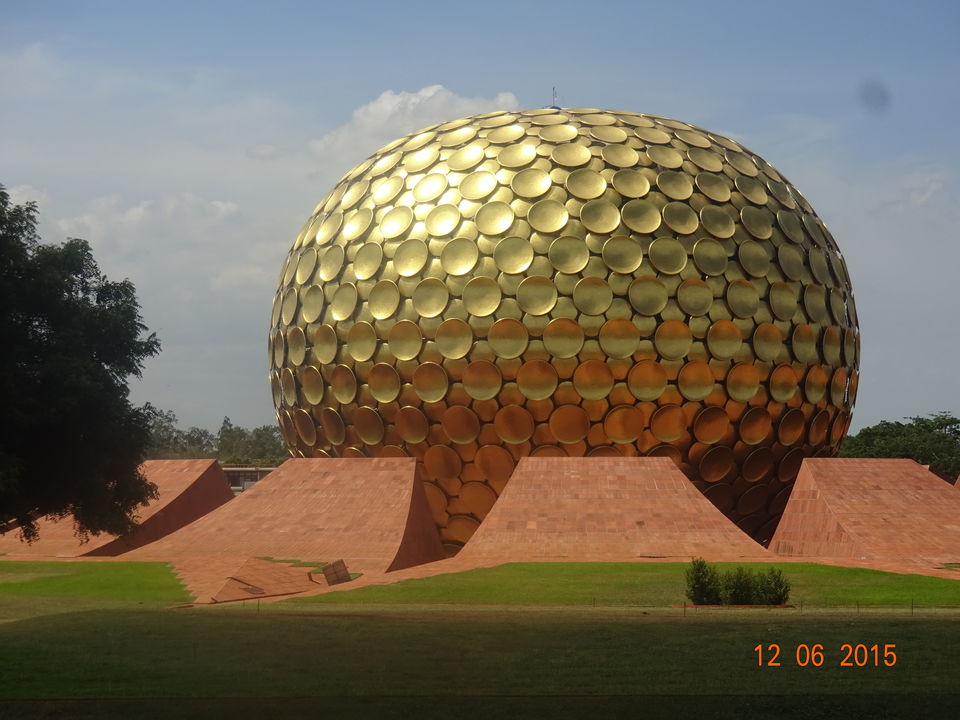 7. Auroville Matrimandir – Auroville is an experimental township, founded by 'The mother' to house approximately 50,000 individuals from various countries. Inside is the Matrimandir, which is constructed in the form of a huge sphere. It is here that people carry out meditation. It is called the 'Peace Centre'. Though the entry inside is free, bookings have to be made in advance. And those who intend to go in, have to be there personally to make the booking.
Note – There can be upto 24hrs or more of waiting.
Well, the others like us can walk up to the Matrimandir, see the architecture, click some pictures, visit their shop, sit out under the trees, sipping some coffee, relax and well you're done. There is a considerable amount of walk so those who want to refrain from that, you can just consider your visit again.
Time spent – 2-3 hours
Shopping at MG road –
Hidesign flagship store – leather lovers' paradise. Also, there is a rooftop café/restaurant, you can chill there in the evenings.
Hidesign factory outlet – The factory reject is here and at a very discounted price
Casablanca – a complete store for everything but I particularly love their home décor section. Head there for all the tax-free shopping!
Auroville store – Lot of quirky stuff. Some clothes, accessories, house accessories.. just name it!
Time spent – Of course, endless!
Places to eat
Surguru restaurant– South indian, pure vegetarian, quick
Xtasi – Humongous and numerous varieties of pizzas. Always crowded.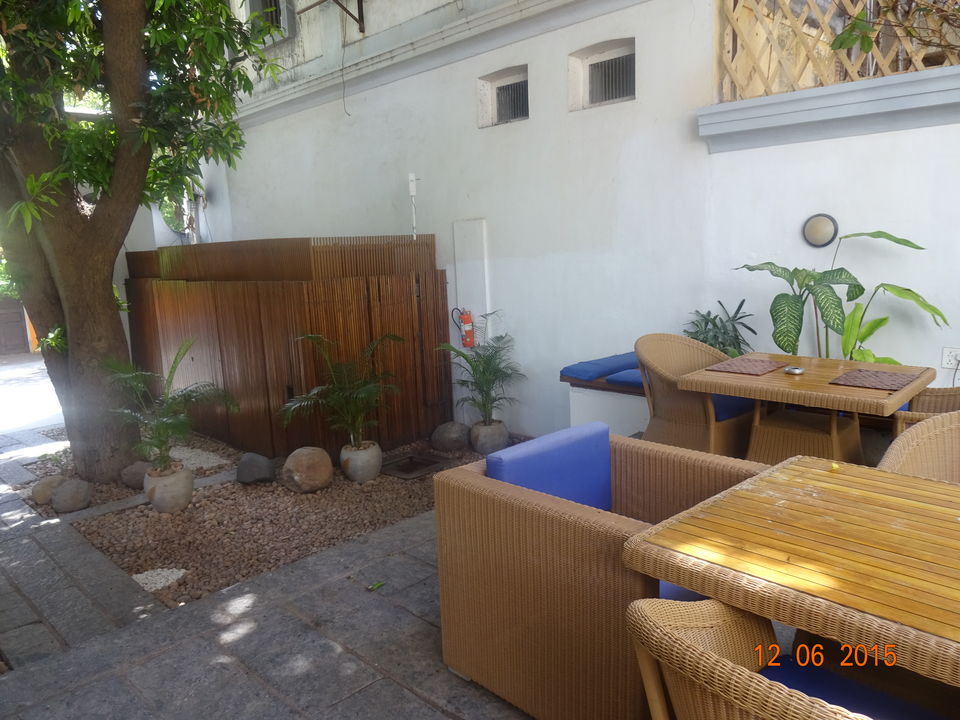 Le Dupleix – A poised hotel that used to be the residence of the governor. Under the mango tree is their restaurant, which serves tasty food and a relaxed ambience. Heavy on the pocket.
The Indian Kaffe Express – Ideal for breakfast. Loved their crepes.
Pasta bar Veneto – As the name suggests, you can hog on their yummy pastas.
Zuka Choco la – Baked chocolate goodies is their speciality.
Bakers street – French bake. Lot of variety.
How's the weather?
Been there in june – scorching summer sun
October – a little on the hotter side, evenings are pleasent
So well, carry light and enjoy the heat!
Our 3-day itinerary
Day 1 – Reach the station in the morning (We chose to go by train from Bangalore)
The Basilica > Hotel >rent a bike > Auroville > Aurobindo Ashram > Evening at promenade
Day 2 – Day for the Paradise beach
If June – can go by bike
If October – Go by ferry (due to high tides – safety comes first)
Day 3 – Soak in the French quarters – Roam around aimlessly on your bikes, shop at MG road, Sit at the promenade
We stayed at Le Dupleix and The Sunway manor. The latter is a little outside the French quarters but its doable as the hotel is quite good. The former on the other hand is just perfect if you are not hung up on a swimming pool to dive in.
So this is my take on this quaint little town. Please do let me know if you find the information useful and you can always ask me anything!